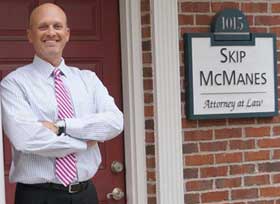 Alpharetta Personal Injury Lawyer
Personal injury is defined as any type of injury that is inflicted on a person's body. Medical malpractice, car accidents, nursing home abuse and slip and fall accidents are examples of some of the reasons people choose to file a personal injury claim. If you have suffered a personal injury, then you should hire an attorney.
Below are some of thereasons you should choose to hire Skip McManes an Alpharetta personal injury lawyer:
No Fees Unless You Get Compensation
You really do not have anything to lose if you hire Skip McManes Law the Alpharetta personal injury lawyer. Personal injury attorneys work on a contingency basis. You will not have to pay anything unless you are compensated for your injuries.
Less Stressful
There are the steps involved in filing a personal injury claim. You will need to fill out the necessary paperwork and submit medical documentation. Many people find that this process is very overwhelming. However, your Skip McManes your Alpharetta personal injury lawyer can make this process go a lot smoother.
Increase Your Chances Of Getting The Maximum Compensation
You can file a personal injury claim without an attorney. However, if you have an attorney, then you will be much more likely to get the compensation you deserve. Insurance companies are known for low-balling people. In fact, this is how insurance companies generate a lot of money. Your attorney knows this. That is why your lawyer will fight hard for you in order to ensure you get the maximum compensation.
Experience
Skip McManes your Alpharetta personal injury lawyer is experienced. He has helped many people who have had cases similar to yours. Because your attorney is experienced, he will be able to thoroughly examine your case.
Your Attorney Can Go To Trial If Necessary
In most cases, personal injury attorneys cases settle out of court. It is a lot easier and quicker to settle out of court. However, a case may need to go to court. If your case happens to go to court, then your attorney will be able to represent you.
Objective
Personal injury attorneys have the ability to be objective. You may be experiencing a whirlwind of emotions. You may feel hurt, angry and sad. These emotions can prevent you from thinking clearly. For example, you may be tempted to take the first settlement you are offered. Your attorney will advise you that taking the first settlement offer is not a good idea.
Contact McManes Law Today
If you have suffered a serious personal injury or had a loved one perish due to the negligence of others, contact Skip today and let him and his team begin the process of helping you obtain the financial compensation you so justly deserve. Contact McManes Law at 770-645-8801 today, and Skip McManes and his team will speak to you within one business day to discuss your case and the options associated with it. Rather than sit back and do nothing, let Skip and his team of experts make those who were negligent accept responsibility for their actions today.
Call now to get the personal injury representation that you need and deserve!