Atlanta Slip And Fall Accident Lawyer
Slip And Fall Accident Attorney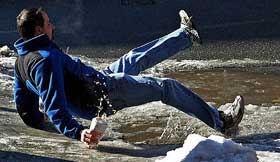 When you have been injured because of negligent property owners, you need the expertise of an Atlanta slip and fall lawyer. When another party's negligence contributes to a condition where you sustain injuries, you may be entitled to compensation under the law.
There are many different places where a slip and fall accident can happen: an office building, a grocery store, or even a shopping mall. Consulting directly with your Atlanta slip and fall lawyer can help you determine the most appropriate action steps to take for your case.
If you have been injured in a slip and fall accident, your first stop should be to obtain medical assistance. One of the most common injuries associated with these incidents has to do with your back or neck. These can be some of the most difficult injuries to diagnose because the symptoms of an injury may not always be immediately apparent. It is likely that you will need to consult with a medical expert in the aftermath of your injury to determine how the injury has evolved.
Slip and Fall Requirements in Georgia
In the state of Georgia, property owners are responsible for ensuring that their property is reasonably free and clear from hazards that might cause injuries to others on the premises. If this level of care was not taken on a piece of property where you were injured, you should consult with an attorney as soon as possible. Your Atlanta slip and fall lawyer can inform you about the viability of your personal injury lawsuit
Under Georgia law, the victim must be able to demonstrate two things in a slip and fall lawsuit: that the property owner had knowledge of the dangerous condition's existence or should have known, and that the victim was not aware of the dangerous condition on the premises. This is the basis of a case involving a negligent property owner.
An Attorney's Assistance
An attorney plays a critical role in a Georgia slip and fall lawsuit because you will need to demonstrate that the property owner was negligent, leading to the serious injuries you sustained. Your attorney will first consult with you regarding the circumstances of the accident and then may
Gather and review evidence related to the scene of the accident and the dangerous property condition
Discuss the accident with any relevant witnesses
Communicate with store personnel regarding cleaning logs or operational records
Analyze your medical records to determine the extent of your injuries
To learn more about specifics related to your case, contact us today.