Negligence and Personal Injury: How Skip McManes Can Help You Obtain the Compensation You Deserve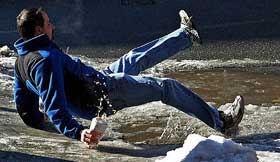 When we go about our daily lives, we trust that others will take reasonable care to avoid causing harm or injury to us or our loved ones. Unfortunately, accidents can and do happen, and when they do, they can result in severe physical, emotional, and financial consequences. In situations where someone else's actions caused or contributed to your injuries, you may be entitled to compensation under the law.
At the heart of many personal injury cases is the concept of negligence. Negligence occurs when someone fails to take reasonable care, resulting in harm to others. Examples of negligence in the context of personal injury cases may include:
A driver who runs a red light and causes a car accident
A property owner who fails to maintain safe conditions, resulting in a slip and fall accident
A healthcare provider who provides substandard care, resulting in harm to a patient
If you have been injured due to someone else's negligence, Skip McManes can help. With years of experience representing clients in personal injury cases, Skip McManes understands how to navigate the legal system and advocate for the compensation you deserve
How Skip McManes Can Help You
If you have been injured due to someone else's negligence, you may be entitled to compensation for a variety of damages, including:
Medical expenses
Lost wages
Pain and suffering
Emotional distress
Property damage
Skip McManes can assist you in pursuing compensation for these and other damages.
Here's how:
Investigating your case: Skip McManes will thoroughly investigate your case to determine the facts surrounding your injury, including who was at fault and what damages you have suffered.
Negotiating with insurance companies: Insurance companies are notorious for trying to minimize payouts to injured individuals. Skip McManes can negotiate with insurance companies on your behalf to help ensure that you receive fair compensation for your injuries.
Pursuing a lawsuit if necessary: If negotiations fail to result in a fair settlement, Skip McManes can file a lawsuit on your behalf and represent you in court.
Don't Wait to Seek Legal Help
If you have been injured due to someone else's negligence, it's essential to seek legal help as soon as possible. In Georgia, the statute of limitations for personal injury cases is two years from the date of the injury. This means that if you wait too long to file a lawsuit, you may lose your right to compensation.
Contact Skip McManes today at 770-645-8801 to schedule a free consultation and learn more about your legal rights and options.