Seeking Justice for Wrongful Death: The Law Offices of Skip McManes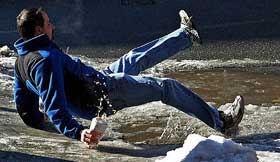 Losing a loved one is never easy, but it can be particularly devastating when the death was caused by someone else's negligence or misconduct. Wrongful death cases are complex and emotionally charged, and it can be difficult to know where to turn for help. If you find yourself in this situation, it's important to seek out the services of an experienced attorney who can guide you through the legal process and fight for the compensation you and your family deserve.
At the Law Offices of Skip McManes, we understand the pain and suffering that comes with losing a loved one, and we're here to help you every step of the way. Our team of dedicated attorneys has years of experience in handling wrongful death cases, and we're committed to providing compassionate, personalized representation to each and every one of our clients.
When you work with our firm, we'll begin by conducting a thorough investigation into the circumstances surrounding your loved one's death. We'll review police reports, medical records, and any other relevant evidence to build a strong case on your behalf. We'll also work with expert witnesses, such as accident reconstruction specialists and medical professionals, to help establish liability and damages.
In a wrongful death case, there are a number of factors that must be considered when determining the amount of compensation to which you're entitled. These can include:
Medical expenses incurred prior to your loved one's death
Funeral and burial expenses
Loss of income and future earnings
Loss of companionship and emotional support
Pain and suffering endured by your loved one prior to their death
Our attorneys will work tirelessly to ensure that all of these factors are taken into account when seeking compensation on your behalf. We'll also be there to answer any questions you have along the way and provide the emotional support and guidance you need during this difficult time.
In addition to seeking financial compensation, pursuing a wrongful death case can also help hold those responsible accountable for their actions. This can include individuals, businesses, or even government entities that failed to take appropriate measures to prevent your loved one's death. By taking legal action, you can help prevent similar tragedies from occurring in the future.
At the Law Offices of Skip McManes, we're committed to fighting for justice on behalf of our clients. We believe that everyone deserves to be held accountable for their actions, and we won't rest until we've done everything possible to secure a favorable outcome for you and your family.
If you've lost a loved one due to someone else's negligence or misconduct, don't hesitate to contact us today. We offer free consultations, and we're here to help you navigate the legal process with compassion, skill, and expertise. Let us help you get the compensation and closure you deserve. 770-645-8801